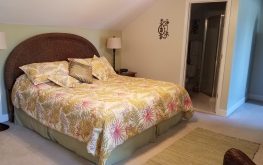 Located at the top of the Inn, the Calabash Room offers privacy, comfort and plenty of space to relax. Named after a quaint fishing village along the North Carolina coast, the Calabash Room boasts a character reflective of its namesake. Coral tones are offset by the deep natural wooden armchairs, while the stunning Georgian windows flood natural light into the spacious room.
The privacy offered by the Calabash Room makes it the perfect choice for couples seeking a romantic getaway. 
*Nightly room rate of $150 does not include North Carolina tax of 6.75% a night.