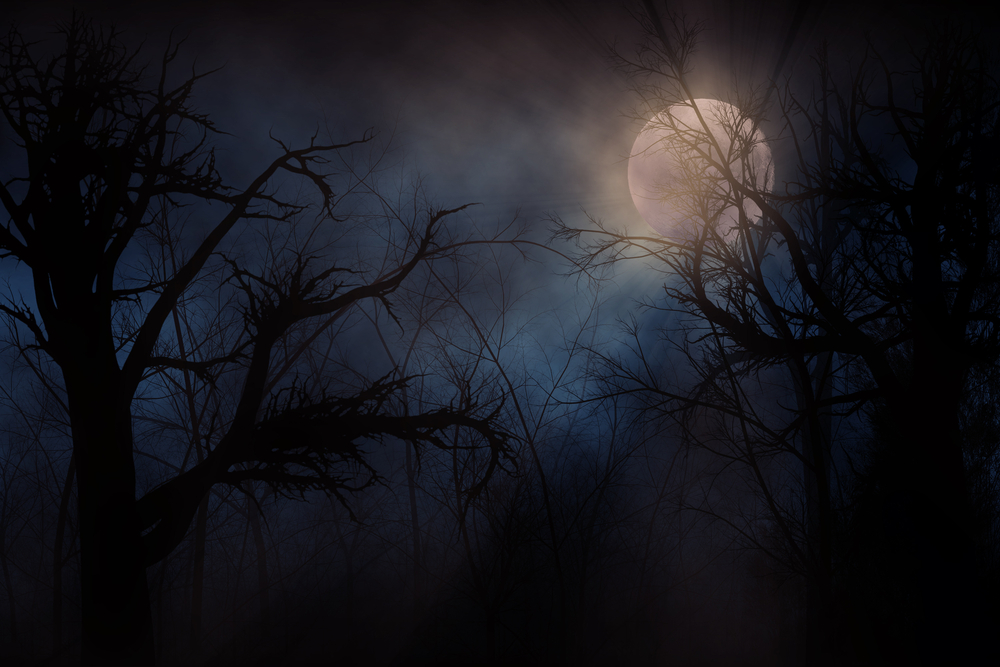 It's Halloween – a great time to share spooky stories. In North Carolina, a state full of history, there are plenty of strange happenings and a lot of spooky paranormal activity to share! Here in the Old North State, you may hear a knock from inside the walls of the Governor's Mansion or meet a mysterious stranger on a Grandfather Mountain trail.
Below we are sharing 8 of our favorite Most Haunted: North Carolina stories.
Most Haunted: North Carolina
Helen's Bridge
The legend of Helen's bridge is one of the most famous sinister stories in North Carolina history. The story is a tragic story of grief where a lady called Helen lost her daughter to a fire. Grief-stricken Helen hung herself from bridge, taking her own life.
Today she can be seen wearing a long gown, asking the whereabouts of her child. There have been numerous reports of incidents involving cars at the bridge – either at the site or days later. The area seems to have high levels of paranormal activity and is one of the most popular sites for those looking to investigate strange goings on!
Teach's Hole
Ever heard the story of Blackbeard's Ghost walking the shores of North Carolina? Edward Teach, most commonly known as Blackbeard, was killed in a battle with the Royal Navy in 1718. Lieutenant Robert Maynard had Teach beheaded and his body thrown overboard.
Blackbeard's head was then suspended from the bowsprit of Maynard's ship for good measure. His head was returned to Governor Alexander Spotswood of Virginia for a bounty of one hundred pounds sterling. Legend says Blackbeard still walks the beaches of North Carolina searching for his severed head.
The Great Dismal Swamp
The Dismal Swamp State Park, despite what its name suggests, is actually a beautiful place to go in the day! Not only does it have a variety of wildlife and beautiful scenery. The land has a lot of history, including the Underground Railroad, an exploration by George Washington and even communities of escaped enslaved people. By nightfall, it becomes spooky and dangerous!
The dangerous and untamed land has many stories of visitors who were lost to the swamp and there have been reports of visitors hearing noises, seeing strange lights and extreme cases of spirits whose lives were claimed by the swamp!
Roanoke Island Ghost Deer
One of the most well-known stories in North Carolina is that of the vanishing Roanoke Colony. Legend says the settlement of around 100 people, were low on resources and food, shortly after they were established in 1587. The Governor of the colony, John White, returned to England to bring back more supplies.
It was at this point that England went to war with Spain, delaying White's return to Roanoke for 3 years! When he finally returned, all of the settlement had disappeared, including his granddaughter Virginia Dare, the first English child to be born in the New World. The only clue to the fate of the colonists being the word CROATOAN carved into a tree.
White was desperate to follow up on the clue carved into the tree. But he was prevented from making a thorough search of the islands. His ship was threatened by a large oncoming storm, and the captain was eager both to escape that danger and to turn south and hunt for Spanish treasure ships. White was forced to sail on, not knowing what had become of his family and the other settlers.
By the time of the next attempt at Colonization in 1608 at Jamestown, the fate of the Lost Colonists had already become the stuff of legend. Legend says that Virginia's mother had the foresight to carve their destination into the tree which she did, clutching her child with her husband lying dead next to her.
Virginia grew up to be a beautiful maiden who attracted the attention of many suitors. Among those a jealous sorcerer called Chico who Virginia rebuffed, enraging him. He used his dark arts to curse her and transform her into a snow-white deer. The mysterious white doe was often seen on Roanoke, walking alone in the now overgrown desolate area, built by her people.
The Ghost Hiker of Grandfather Mountain
Grandfather Mountain State Park is one of North Carolina's most visited areas. Known for its beautiful landscapes, majestic wildlife and treacherous hiking trails – locals come along to the area all year round. One frequently encountered ghost is that of a lone hiker!
Reports say that the ghost is an older man with a long beard who can be spotted carrying a walking stick and hiking silently at dusk. A gentle and harmless ghost, the lone hiker has never acknowledged anyone who has seen him, instead he hikes the 12 miles of trails in the park alone.
The Biltmore Estate
George Vanderbilt died unexpectedly from complications from an appendectomy and is said to haunt the grounds of the old, historic Biltmore Estate. Years after his death, his widow, Edith, is said to have spent much of her time in the library talking to him and to this day, she can still be heard talking to him in the library!
Cry Baby Lane
One of the saddest and most tragic stories in North Carolina is that of the fire that destroyed an orphanage outside of Raleigh and killed several children who lived there. After the fire, in the field where the fire took place, locals reported a strong smell of smoke, so strong in fact that it would fill up their lungs and they would cough violently. After the smoke disappeared, cries and screams could be heard all around.
The Pink Lady
The Pink Lady, thought to be a debutante or a secret scorned lover, is said to have fallen to her death from a 5th floor window from the Omni Grove Park Inn. Seen in a pink ball gown or with a pink 'glow' around her, those who have encountered her say she is good natured and is good with children. It is said that one guest even left a note at the front desk thanking the 'lady in pink' for playing with his children during his stay. The Pink Lady seems to have a preference for room 545 and is often reported to be playing pranks such as turning lights and air con on and off and rearranging objects!
These are just a few strange ghost stories, famous in the state known for paranormal happenings. There are so many cool, spooky places to visit in North Carolina, at Halloween or at any time for locals and visitors to the area.
Interested in diving into North Carolina's spooky history? The Inn on Bath Creek is the perfect starting point for your ghoulish adventure. Book your stay today. Call 252-923-9571 or click here to request your stay online.