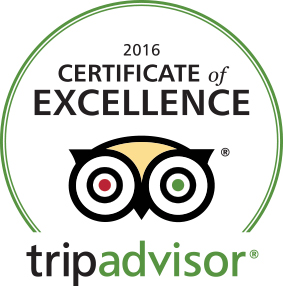 TripAdvisor Awards The Inn A 2016 Certificate Of Excellence
It's been a whirlwind of a year so far. When considering what buying a B&B means, it's hard to imagine exactly what you're about to embark upon. Needless to say, it's been an adventure so far. Between settling in to North Carolina and adjusting to the more relaxed way of life compared to D.C., it's been more thrilling than we could have ever anticipated.
Along the way, we've been very lucky to meet some fascinating and lovely people, many of whom we hope will return to the Inn in the future! While we love the area, and think the Inn on Bath Creek is the perfect retreat from the ordinary, it's always rewarding to hear that our guests feel the same way. It's even better when they go to the bother of sharing their thoughts and reviews with the world online.
As a result of the reviews that people have left for the Inn on TripAdvisor, we're absolutely delighted to announce that we have been selected for TripAdvisor's 2016 Certificate of Excellence! The certificate is a reflection of the reviews that our guests have left for the Inn, and for this, we are extremely thankful to everyone who has taken the time to share their experiences here.
"With the Certificate of Excellence, TripAdvisor honors hospitality businesses that have consistently received strong praise and ratings from travelers," said Heather Leisman, Vice President of Industry Marketing, TripAdvisor. "This recognition helps travelers identify and book properties that regularly deliver great service. TripAdvisor is proud to play this integral role in helping travelers feel more confident in their booking decisions."
We look forward to continuing to provide our guests with superior service, and thank you all again.