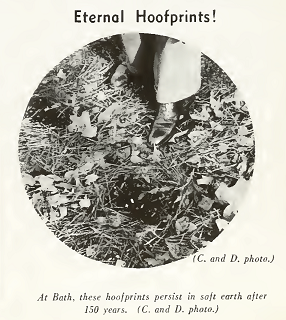 The Mysterious Devil's Horse's Hoof Prints of Bath
If you like a spot of spooky sightseeing, then let us entice you with one of our oldest and most notorious mysteries – the "eternal devil's horse's hoof prints". This eerie earthly affliction has been present for over 200 years, and is only 3 miles west of Bath.
Deeply set into the soft soil of a now forested area, all attempts to fill the hoof prints have failed. They stubbornly remain as a demonic reminder of a doomed soul who lost a bet with the devil. Nothing will thrive within any of the 5 prints that measure 6 to 10 inches wide and 5 inches deep. School children have tried leaving things inside the depressions, and every time the items vanish by the time the foolish trickster returns. Visitors to the site have apparently reported the same, spooky occurrence.
The Story of the Devil's Horse's Hoof Prints
Accounts vary, but the story goes that the ill fated Jesse Elliot and a few friends were racing their horses along Bath's main street one Sunday Morning. A darkly clothed stranger had appeared earlier that morning to challenge Jesse. His perceptive, faithful dog had growled in warning at this malevolent presence, but to no avail because Jesse was set on his course of action – he loved to race.
One version of events states that Jesse was heard to shout at his horse "Take me in a winner or take to me to hell". To which the horse immediately dug its hooves deep into the ground throwing Elliot over the reins, where he slammed into a tree, broke his neck and mercifully died instantly.
Another version explains that although Jesse was winning the race, when he reached a sharp bend in the road his horse looked back and was spooked by what it saw. This is why it hastily halted and threw its rider to his peril.
Legend has it the horse could have been the devil in disguise or perhaps his mysterious rider was the descendant of fire and brimstone. Either way, the hoof prints remain and the saucer shaped depressions can still be seen today. The Fifth ominous mark is meant to be where the devil stooped to claim Jesse's soul as his prize, then returned with him to hell.
Scientists have tried to explain the depressions as perhaps caused by salt veins or vents for a subterranean water pocket. But the hundreds, possibly thousands of people who have seen the hoof prints themselves attest that the legend seems to ring true. Whether or not you like to indulge in nefarious excursions to spooky places, when you stay at the Inn on Bath Creek this fall – we promise you a little slice of heaven in which to rest your weary soul. To book, call us 252-923-9571 or click here to request a booking online.