Camping in North Carolina
From the barrier islands of the Outer Banks to the rugged Appalachian Mountain range, North Carolina has some of the most diverse and beautiful terrain in the United States. And one of the best ways to experience this breathtaking land is by camping. 
Whether you prefer the comforts of an RV or a more primitive adventure with your tent, North Carolina offers many options for setting up camp.   
Types of Camping Facilities in North Carolina?
North Carolina has 41 state parks, 10 national park sites and four national forests, all offering a wide range of outdoor activities for your camping adventures. Hiking, biking, fishing, paddling and picnicking are just a few.  
When it comes to where to camp, approximately 42% of campers in the United States choose to camp at state park campgrounds. The types of camping facilities you can find at a state park include:
Tent, trailer or RV camping

Backpack camping

Cabins

Group Camping

Equestrian Camping

Paddle-In Camping
According to Travel and Leisure Magazine, the most-visited national park in the United States is the Great Smoky Mountains National Park which crosses North Carolina and Tennessee. Once you visit you will understand why it is so popular. Waterfalls, forests, and beautiful mountain views make this a must-visit destination for campers.  
If listening to the  crashing surf from your tent is more your thing then North Carolina is where you want to be. Along the outer banks are 2 National Parks with camping availability.  Cape Hatteras National Seashore and Cape Lookout National Seashore. Cape Hatteras NS was the first National Seashore authorized by Congress in 1937. Cape Lookout NS consists of 56 miles of beach and 3 underdeveloped barrier islands. 
Unique Camping Spots in North Carolina
Travelling with someone who is not so sure about the benefits of being in the great outdoors yet? If so, check out these unique camping experiences. One of these adventures is  sure to get them hooked on camping. 
Blue Bear Mountain Camp – In the heart of the Blue Ridge Mountains, just 8 minutes north of Boone with an elevation at  4,000 feet is Blue Bear Mountain Camp. They offer the  typical tent and RV campsites with the option to step up to a mini cabin if you choose.  But what makes Blue Bear unique is the chance to stay in one of their tepees. Hand-painted, 22-foot-tall tepees give you another way to experience nature at its finest. 
Asheville Glamping – This is definitely a luxurious version of camping. Treehouses nestled in the treetops with a suspension bridge leading to the front door. Vintage trailers and domes, some with hot tubs. The tents, domes, treehouses and trailers are all built for comfort. Air conditioning, running water, electricity and even hot tubs make for a luxe stay that will convince just about anyone that camping is, indeed, their thing.
Roanoke River Platform Sites – Pack your gear into your canoe or  and take your pick of about 15 riverside camping platforms joined by 140 miles of water on the Roanoke River. Each campsite offers a unique vibe with various amenities including screened-in platforms, group platform options and fire pits – all boast beautiful views that'll make you one with nature.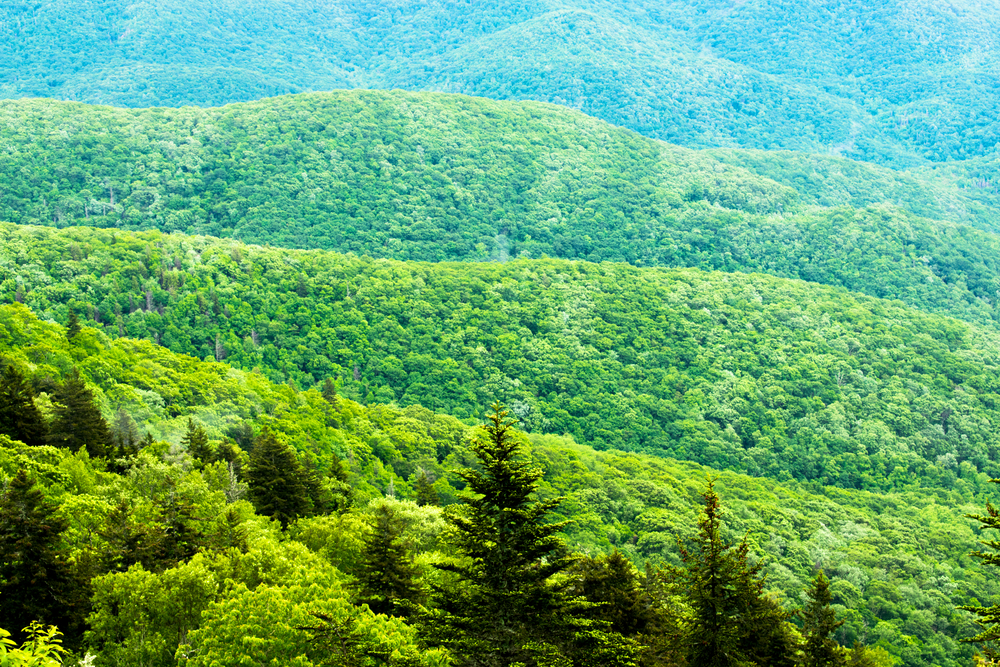 Cape Lookout National Seashore – Have you ever wanted to have miles of beach all to yourself? That's what you can find at Cape Lookout National Seashore. Rustic cabins at Great Island and Long Point make the perfect home base for fishing, shelling and exploring the National Seashore, and they include hot water, private bathrooms, bunk beds, a stove and a grill. At Long Point, there's even electricity and air conditioning in a few cabins. But if your idea of roughing it has a little more "rough" to it, you can also take your tent out on the National Seashore, and camp among the dunes and grasses on the island while listening to the soothing sound of the waves crashing on the shoreline.
Sky Ridge Yurts – Sky Ridge Yurts adds a bit of glamour to your camping adventure with its well-appointed yurts. Yurts are traditional Mongolian tents which are amazing. These circular houses come in a variety of sizes and have private bathrooms, kitchenettes or full kitchens, and slate-lined walk-in showers. Adding to the Smoky Mountain setting, fire pits, whitewater rafting, hiking, and outdoor adventures are all at your fingertips thanks to Nantahala Outdoor Center and Great Smoky Mountains National Park.  
Benefits to Camping
Spending time outdoors isn't just a good way to have fun with family and friends. It's also beneficial to your health and wellbeing. So whether you are glamming it up in a treehouse or camping along the creek with your kayak, being in nature is powerful. According to Carecamps.org here a few ways nature provides us with her healing powers:
Reduced Stress – Just after a short 20 minutes connected to nature, people can experience a drop in stress hormones. 

Improved Mental Health – Time in nature can increase vitality, boost your mood and increase your sense of well-being. 

Better Sleep – Studies have shown that waking up with the sun and going to bed when the sun goes down will let your body reset to your natural sleep cycle – providing you with the exact sleep you need.  

Relationship Building – One of the best and most important aspects of camping is how it helps you build and strengthen relationships. When you go camping with friends or family, you get a chance to talk and visit without distraction, even late into the night.

Unplugging –

Too much habitual digital device time affects our ability to concentrate, remember and regulate emotion. Commit to the experience and step away from screens and reconnect without digital distractions.
Helpful Tips on Camping in North Carolina
A successful  camping trip does require some preparation in order to make the most out of your adventure. Here are some tips:
Plan ahead. Some campgrounds take reservations, while others operate on a first-come, first-served basis, filling up early in the day. Right now, planning is especially important as some campgrounds have changed their policies since the COVID-19 pandemic began.

 

Beware of park warnings to stay prepared for any harsh weather or hazardous conditions, research park requirements, and check for facility updates so you know what amenities will be available when you arrive.

Check your equipment before you leave on your trip.

If it has been a long time since you last went camping, make sure to pull your gear out and check it before taking off on your trip. The last thing you want is to pitch your tent in the middle of nowhere and discover a giant tear in it or missing parts.

Make sure to pack for the weather. Pack layers and warm items just in case. Even in the middle of summer it is possible to get a little cool at night, so having an extra hooded jumper or jacket is always a good idea.

Don't forget the food. What you eat will depend on the type of equipment you have. Consider meals that are easy to prepare. Even the most simple foods taste better around a campfire. And pack water. 
If you are headed to Cape Hatteras or Cape Lookout consider a stop over at the Inn on Bath Creek. We are known for our southern hospitality and delicious breakfast. A perfect send off as you catch the ferry on your journey to your camping adventures along our North Carolina coastline. 
Remember to always respect wildlife, safely manage campfires, and follow the seven Leave No Trace principles, too.