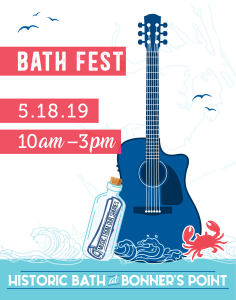 BathFest 2019 Is Almost Here!
Bath, N.C. is a magical place full of history, mystery and fun. Each May, we celebrate all this and more at our annual BathFest. If you've been debating come to visit Bath, this is definitely the time to do so. BathFest 2019 takes place on Saturday, May 18th from 10am to 3pm and guess what – it's completely free to attend!
What To Expect At BathFest 2019…
Music From Our Shores
Resounding across the air and the waves will be a musical journey through time. A collection of the sounds from our glorious state of North Carolina. The story told will span from the past all the way up to the present day, a musical treat that flows in a tuneful transition through time. Expect performances from both traditional and modern musical groups at the historical Bonner's Point in Bath.
Arts and crafts
An art show featuring the works of Bath Elementary school K-8 students is set to entertain every art lover. There are also original works for sale from many vendors. Check out some more examples of the work that will be available here. There will also be delicious local foods available, provided by local civic groups.
BathFest continues to be a display of talent and unity each and every year. It's success relies upon the dedication and skill of the many volunteers, vendors and visitors. Why not come along to BathFest 2019 and add to the atmosphere!
For updates and further information, please visit the Bath Historic Site's Facebook Page.
Make the most of your visit by booking an overnight stay with us. The summer event calendar here at Bath is full of fun and interesting activities, it's enough to keep you coming back for more.
Why not call us today on 252-923-9571 to discuss your stay, or click here to book.