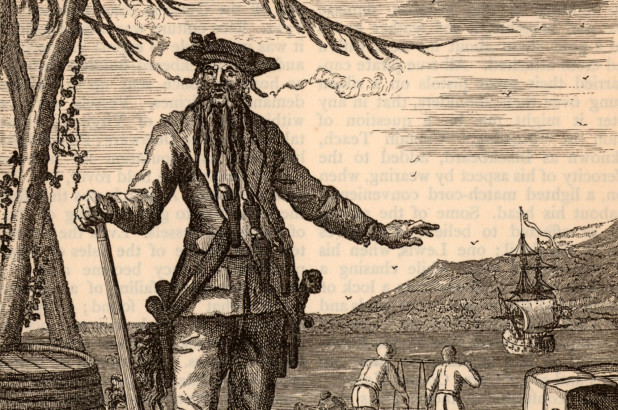 5 Things You Should Know About Blackbeard of Bath
Blackbeard – Bath's most notorious occupant was a plundering scoundrel, but he certainly left his mark. Here's 5 pieces of gold to wet yer treasure hunting appetite before you come to visit…
Blackbeard,  otherwise known as Edward Teach came from Bristol, England where he served as "privateer" for the British Navy during Queen Annes war of 1702-1713. This is why he named his pirate vessel "Queen Anne's Revenge", the wreckage of which was found in 1996 in Beaufort under 20 feet of water.

He came to settle in Bath around June 1718, when he was offered pardon by Charles Eden the colonial governor.  Piracy was becoming less acceptable, and many say the pair brokered a deal to split profits. He didn't stay terribly long but took his 14th Bride here, and was treated as quite a celebrity!  He brought prosperity to the town as he traded his spoils which attracted visitors from nearby. The thirsty seafaring cohorts that came with him certainly brought plenty of custom to the bars! He was invited to many a lavish dinner and threw rawdy parties at his home on Plum Point.

His fearsome reputation came from his "reign of fear" during which he ambushed passenger and cargo ships in the carribean. He also once held the city of Charleston hostage via a blockade for weeks with his army of 300 pirates at his command. His appearance was deliberately terrifying, his face mostly covered by his blackened smoking beard, he wore a crimson red jacket the pockets were loaded with pistols and knives and belted around his hips he wore 2 swords.

He broke his retirement and went back to piracy, but the British Navy brought him to a gruesome end in a bloody battle at his hideaway at Ocracoke. The autopsy recorded 5 bullet wounds and 20 severe cuts to his headless body.  He was defeated by the Britsh Navy's Robert Maynard who displayed the head on his ship as a warning. Sightings are often made on a clear evening off the coast, of Blackbeards headless body swimming in search of his own head.

Yet another mystery, is that following stormy nights strange tales are told by the occupants of Bonner house. Which is across the bay from Blackbeard's old haunt Plum Point.  They speak of a ball of fire the size of a man's head seen travelling back and forth all night from Archbell point to Plum Point. Perhaps it is Blackbeard's restless soul pacing his old treasure bound steps?
We hope you enjoyed this bounty! The spirit of Blackbeard certainly still lives on in the area and and there's still so much more to find out. In the area you will find ghost walks, historical markers, sightseeing tours, talks, the NC Maritime Museum and plenty more to fill yer boots with whilst here. Book your room now.
See you soon, landlubber.