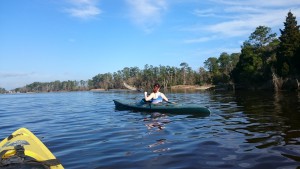 Kayaking
Bath is surrounded by water in just about every direction. Despite being only just over one square mile in size, the town's history is peppered with its importance as a coastal town.
Bath Creek hugs the town of Bath, creating a stunning coastline that ambles towards the Pamlico River. The best way to appreciate the phenomenal natural beauty of the region is from the water.
Kayaking is a popular means of exploring Bath Creek. The easily manoeuvrable nature of the kayaks, as well as their relative speed and stability in the water allows kayakers to venture deeper into North Carolina's Inner Banks. More experienced kayakers may choose to explore some of the smaller waterways that lead off of Bath Creek, where remote swamplands play host to an array of wildlife. For kayakers seeking to travel farther afield, there are paddling trails in nearby Goose Creek State Park as well as many other inlets and rivers to explore in the area. Maps of the local waterways are available at the Inn to help you plan a route. Kayaks are available for rent locally in Bath, N.C.
Biking
Bicycles are the perfect mode of transport for exploring Bath on land. The relatively flat landscape makes for easy and relaxing cycling conditions. Several marked bike routes that pass through the area. Long country roads and interesting side trips make for a pleasant ride or a serious workout depending on your style. A great choice of bike trail for the more experienced biker is the Historic Bath Cruise. This 26.7 mile ride begins in Bath, and takes the rider on a trail through the countryside.
Alternatively, stay closer to home and spend a day exploring some of the more historical sites in the town. The Palmer-Marsh house, St. Thomas Church, and Bonner's Point are all easily accessible from the Inn. Bicycles are available for rent locally.
Contact us today to learn more!