Welcome To The Inn on Bath Creek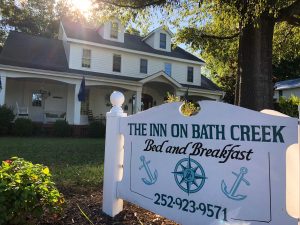 Located in historic Bath, North Carolina, the Inn on Bath Creek invites you to take a step outside of the ordinary, and find out why we believe life is better on the water.

Bath is a town steeped in history. Famous for being the first incorporated town in North Carolina, it retains an old world charm that allows visitors to take a step back in time, while enjoying the modern conveniences of today. Sailboats anchored in Bath Creek rise and fall with the ebb and flow of the water stretching out toward the Pamlico River, framed by the lush green vegetation. The same peaceful cove that offered harbor to early natives and settlers still welcomes people today.

The Inn is located on Bath's historic Main Street. Nestled among some of the oldest buildings in North Carolina, it sits directly across from the tranquil waters of Bath Creek. Inspired by the coastal colonial history, we have created a comfortable atmosphere for our guests to enjoy. We look forward to welcoming you at the Inn!